Introduction
Mamma's Pizza is not just a pizza restaurant, it is a community hub. Located in Richmond Hill, ON, Mamma's Pizza has been serving the community for years with its delicious pizza and commitment to giving back. In this blog post, we will explore how Mamma's Pizza is involved with the community and why it is the best pizza restaurant in Richmond Hill.
Know More About Mamma's Pizza
We understand that our clients in the GTA want to have a great selection of their favorite pizzas that include many different specials, catering, and even gift cards. Here at Mamma's Pizza, we want to be the best pizza restaurant in Richmond Hill in every aspect, and that's why we're committed to community involvement as well.
To that end, we've been involved with the Community Association for Riding for the Disabled (CARD) for quite some time now. Not only do we provide the food for many of their outdoor events, we also sponsor a horse each year so people with disabilities can get some therapeutic value from horseback riding.
There are other charities we work with, like Friends of We Care in support of Easter Seals, where raising money through the sale of our pizzas on Mamma's Day has become an annual event because we believe a good business has a community service element as part of a fully rounded approach.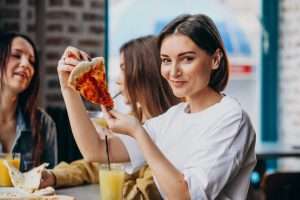 Remember, we were founded in 1957. Ever since then, we've been making our traditional and gourmet pizzas as a business and always striving to be the best pizza restaurant in Richmond Hill by staying involved with the people we care about too.
Community Involvement
Mamma's Pizza is committed to giving back to the community. They have partnered with local organizations to support various causes, including the Richmond Hill Food Bank and the Canadian Cancer Society. Mamma's Pizza has also sponsored local sports teams and events, such as the Richmond Hill Soccer Club and the Richmond Hill Winter Carnival.
In addition to their partnerships, Mamma's Pizza has also hosted fundraising events at their restaurant. For example, they have hosted pizza nights where a portion of the proceeds goes towards a local charity. These events not only raise money for a good cause but also bring the community together.
Quality Ingredients
Mamma's Pizza is known for its delicious pizza, and it all starts with the ingredients. They use only the freshest and highest quality ingredients to make their pizza. From the dough to the sauce to the toppings, everything is made fresh in-house. They also offer a variety of specialty crusts, such as gluten-free and whole wheat, to accommodate different dietary needs.
Menu Options
Mamma's Pizza has a variety of menu options to choose from. They offer traditional pizzas, such as pepperoni and cheese, as well as specialty pizzas, such as Mediterranean and BBQ chicken. They also offer salads, pasta, and sandwiches for those who want something other than pizza. Mamma's Pizza has something for everyone, making it the perfect spot for a family dinner or a night out with friends.
Conclusion
Mamma's Pizza is the best pizza restaurant in Richmond Hill because of its commitment to the community, quality ingredients, menu options, and online ordering. They are more than just a pizza restaurant; they are a community hub that brings people together. Whether you are looking for a traditional pepperoni pizza or something more unique, Mamma's Pizza has something for everyone. Our commitment to quality, attention to detail, and passion for authentic Italian cuisine has made us a beloved pizza destination in Richmond Hill. So, the next time you are in Richmond Hill, be sure to stop by Mamma's Pizza and taste the difference.