Indulging in a slice of pizza can be a satisfying experience, but for vegans, the typical pizza toppings of cheese and meat can be a barrier. But vegan pizza offered by Mamma's Pizza is here to save the day! This tasty pie is prepared without animal products – meaning no cheese, meat, or other animal-based ingredients.
Vegan Pizza can still be a delight. Instead of cheese, a plant-based substitute made from nuts, soy, or coconut is used. The toppings are varied from vegetables like mushrooms, peppers, onions, and spinach to plant-based meats such as vegan sausage or seitan and various herbs and spices.
Many restaurants now cater to healthy choices, including dietary restrictions and preferences, including veganism. Mamma's Pizza sets itself apart as an exceptional destination for discerning pizza lovers, presenting an impressive selection of vegan pizzas that are mouthwatering and pure bliss. Experience the joy of savoring these irresistible plant-based creations that will please even the most discerning palates.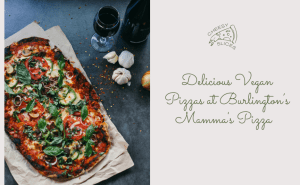 Toronto witnessed the birth of Mamma's Pizza in 1957, which has since blossomed into an adored pizza chain. With more than 20 vibrant locations gracing the Greater Toronto Area, including Burlington, Ontario, Mamma's Pizza has earned a reputation for authentic Italian-style pizzas that artfully blend handpicked, high-quality ingredients and an alluring assortment of toppings.
 Vegan Pizza Options at Burlington's Mamma's Pizza
Vegan Pizza typically uses various plant-based ingredients. Some of Mamma's Vegan Specialty pizzas are:
Spicy Vegan: Indulge in a fiery culinary delight with our Spicy Vegan pizza, tailored for heat enthusiasts. Prepare to tantalize your taste buds with a symphony of flavors in this exquisite creation. The perfect fusion of tomato sauce, green and black olives, chili flakes, vegan pepper jack cheese, and bruschetta will leave an indelible mark on your culinary experience.
Vegan Olive Press with Vegan Mozzarella: Are you looking forward to enjoying a pizza with cheese, you must try this incredible creation? The Vegan Olive Press with cheese (Vegan Mozzarella) is a kind of pizza that both vegans and non-vegans will enjoy. Yes, you got that right. Even if you are not a vegan, you are going to love this fantastic creation. It has stunning flavors of olive oil, roasted potatoes, roasted red peppers, eggplant, broccoli, vegan cheese, garlic, and oregano.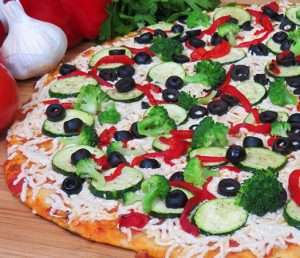 Vegan Olive Press without Cheese: Mamma's Pizza's this amazing creation is for those who do not want cheese with Vegan Olive Press pizza. In other words, Vegan Olive Press without Cheese is the right option for people who love their pizza without cheese. Take your taste buds for a ride with delicious toppings of oregano, garlic, roasted red peppers, roasted potatoes, olive oil, broccoli, and eggplant.
Vegan Original: Sometimes the original is just the best! If you're looking to relish the taste of some original vegan pizza, then look no further.  Mamma's Pizza has got you covered. Topped with Italian plum tomato sauce, vegan mozzarella, zucchini, broccoli, roasted red peppers, and black olives – it's truly delicious. Many people enjoy the Vegan Original pizza, some of whom visit the restaurant frequently to enjoy other creations as well. 
Vegan Primavera: Want to take your taste buds on a culinary adventure? Indulge in the mouthwatering combination of tomato sauce, vegan mozzarella, spinach, sundried tomatoes, and marinated artichokes as you savor every bite of our delectable Vegan Primavera pizza.
Vegan Sausage Classic: For those who want to figure out the taste of sausage pizza but prefer a vegan option, the Vegan Sausage Classic is a perfect choice, with its delicious toppings of Italian plum tomato sauce, vegan mozzarella, vegan sausage, spinach, slow roasted tomatoes, and white onions.
Margherita Pizza: If you are looking for a traditional pizza, go for Margherita Pizza. It is topped with tomato sauce, vegan cheese, and fresh basil leaves.
 Build your own Pizza:
You can design your own culinary masterpiece.

From choosing the ideal dough and crust—whether whole wheat, gluten-free, cauliflower crust, or

thin crust pizza dough

—to customizing your toppings to your heart's desire, you can decide what you want.

You can add mushrooms, onions, peppers, olives, spinach, garlic, and even vegan sausage to get your desired taste.

And for a plant-based twist, delve into the goodness of a vegan

pepperoni pizza

by opting for plant-based pepperoni.
Apart from vegan pizzas, Mamma's Pizza has House Speciality Vegetarian pizza, House Speciality Meat Pizzas, build-your-own Pizza, thin crust pizza, pasta, sandwiches, bowls and salads, calzone, parmigiana, desserts, and drinks. They also have combo packs of two or more items called specials like a calzone and pop special, pizza dip special, hockey special offers and many more. 
Variety of Sizes
Mamma's Pizza comes in a variety of sizes, from small to party sizes: 
The small is 10"(6 slices)

Medium is 12"(8 slices)

Large is 14"(10 slices)

The extra large pizza

is 16"(12 slices)

The party size is 21" X 15"(24 slices)
Place your order based on your cravings and occasion!
It's interesting to see the growing prevalence of vegan offerings in restaurants, opening up a world of possibilities for both dedicated vegans and adventurous food enthusiasts who crave a diverse and innovative dining experience.
Vegans! If you're hunting for a delectable slice of pizza, your quest ends at Burlington's Mamma's Pizza. This pizzeria offers many vegan options that will leave you satisfied and happy.
To conclude, whether dining in or grabbing a takeout order, Burlington's Mamma's Pizza is the place to be for all your vegan pizza cravings. The restaurant is open for dine-in, takeout, and delivery, making it a convenient option for customers looking to enjoy a delicious meal anywhere they want!