Even if you don't usually shop online, it pays to look at the website for Our Dundas St., West location. You'll find an amazing assortment of fresh food there. What's more, we've even gone out of our way to put a nutritional table on the website so you know exactly what you are eating.
It's all part of our commitment to every one of our clients. It doesn't matter what part of the GTA you are living in, there's an excellent Mamma's entrée waiting for you. Here are just a few of the delectable choices that you will find in Our Dundas St., West location here in Toronto.
Spaghetti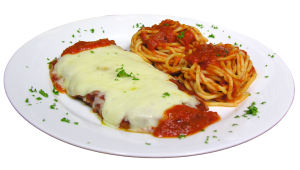 Now we wouldn't be much of an Italian food restaurant if we didn't serve this traditional dish, would we? We make it our number one priority to serve spaghetti that's fresh with only the best toppings possible. It's important to us to go out of our way to give you the delectable meal that you deserve. That's why we sauté our spaghetti dinner in a plum sauce and serve it with two delicious pieces of garlic bread. It's the utmost in an Italian food experience from the genuine article here at Mamma's Pizza.
Fettuccini
We wanted to bring a big piece of Italy here to Toronto way back in 1957. That's why Mamma came over with her special recipe book that included a wonderful page on Fettuccini. That's one of the biggest draws that we have. Although we are always fond of the latest innovations, we know when to leave well enough alone.
That's why you can come and get this Fettuccini in person or have it delivered through our online application. Either way, you'll be getting a superior meal at an excellent price.
That's the thing about us here at Mamma's Pizza. We go out of our way to combine traditional old-world values with modern technology and the freshest ingredients. It all turns out to be a win-win situation for everybody in your family.
Finally, if you're looking for an entrée that sticks to your bones, why not try our meat lasagna? You can have it delivered piping hot right to your front door or come in and enjoy it at our Dundas St., West location.
Either way, you can rest assured you'll be getting an excellent meal at a good price.