Introduction
Are you looking for delicious vegan pizza near you? Look no further than Mamma's Pizza Burlington! Our pizza places near you offer a wide variety of vegan pizza options that are sure to satisfy your cravings. Whether you're a vegan or just looking to try something new, we have the perfect pizza for you.
Mamma's Pizza has been around since 1957. In that time, we've been able to tickle the taste buds of literally thousands of patrons at our 2500 Appleby Line location. We love the fact that our food is good for every member of your family because it's fresh and made with care.
There's something for everyone at our fine restaurants. If you'd rather take a delicious vegan pizza home with you, we specialize in delivering. Don't forget we even want to keep up with the times by offering innovative ordering from the comfort of your own home and computer.
Vegan Pizza Burlington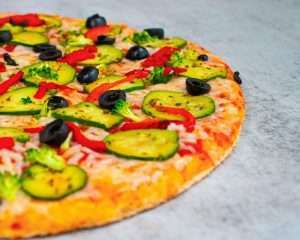 At Mamma's Pizza Burlington, we understand that finding vegan pizza options can be a challenge. That's why we offer a variety of vegan pizzas that are just as delicious as our traditional pizzas. Our vegan pizzas are made with fresh, high-quality ingredients and are sure to please even the most discerning palate.
Some of our most popular vegan pizza options include our Vegan Margherita Pizza, Vegan BBQ Chicken Pizza, and Vegan Veggie Pizza. All of our vegan pizzas are made with our signature tomato sauce and are topped with fresh vegetables and vegan cheese. We also offer gluten-free crust options for those with dietary restrictions.
Give Back
Staying interactive is easy for us. Why? The answer is simple. We love to give back to the community to see the smiling faces of people eating our delicious pizza Italian food choices.
We think it's important for you to understand everything that you're putting into your family's bodies, and that's why we have nutritional tables on our website. It's just part of the way that we are committed to giving back to the communities we serve, including our friends in Burlington.
Priorities
Staying on top of our client's needs is one of our top priorities here at Mamma's Pizza. That's why we have a variety of different gift card denominations that are specially designed to light up the faces of loved ones, colleagues, or friends. Imagine the look on their faces when you give them one of these special certificates that will allow them to enjoy a vegan olive press pizza with cheese.
Favorite Places
Burlington has always been one of our favorite places, and it shows. We love to get involved with the community there, and if you look at our website, you'll see a lot of the charities that we donate to and interact with.
We don't spare any expense when it comes to providing our valued clients with outstanding vegan pizza choices, thin crust, and wonderful toppings. If you take a few minutes to look through the items available, you'll see wonderful choices like marinated artichokes and even roasted red peppers.
Fresh and Good for You
Everything is fresh and good for you. We like to carry on the tradition that Mamma started when she came here from the old country. Good wholesome, healthy food at a reasonable price has always been the cornerstone of our restaurant.
Staying current and abreast of all the latest trends is another one of the advantages when you try our spicy vegan pizza offering.
Conclusion
In addition to our vegan pizza options, we also offer a wide variety of traditional pizzas, salads, and sides. All of our menu items are made with fresh, high-quality ingredients and are sure to satisfy your cravings.
So why wait? Visit Mamma's Pizza Burlington today and try one of our delicious vegan pizzas. We guarantee you won't be disappointed!