There are great sides in Toronto we have on our menu that go well with any of the pizzas that you order. There's always something new on our menu. For example, we would like to introduce our new deep-dish pizza. It's one of the items that you can order for delivery and add on a delicious side like garlic bread.
Here are a few other combinations that work well together.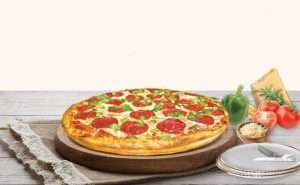 We like to suggest that people add potato wedges to any of their catering orders. They are the perfect side dish for a special event like a family birthday party when you combine them with chicken wings or a meatball tray.
The Arancini is new. This is another delicious choice that comes with Marinara sauce for dipping. It's an excellent companion to one of our pasta dishes like spaghetti or penne. Don't forget that you can add rose sauce or melted cheese to any of these meals.
The great sides of Toronto we have for you to look through include old traditional standards. The garlic bread and garlic bread with cheese are made fresh daily right on the premises.
There are other delicious foods that you can order or enjoy in our Toronto restaurants including parmigiana. So stop your hunt for a parmigiana restaurant in Toronto and visit Mamma's Pizza today.
Veal Parmigiana with Spaghetti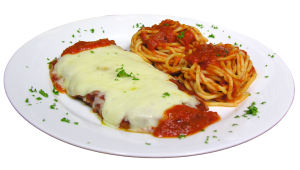 You can order this meal and any other one we have listed online. It will be delivered right to your front door piping hot and served with spaghetti. Tender veal cutlets are breaded, fried until golden, and smothered in rich marinara sauce and melted mozzarella cheese. Served atop a bed of perfectly cooked spaghetti, this dish offers a perfect blend of flavors and textures. The crispy exterior of the veal complements the smoothness of the spaghetti, creating a satisfying and comforting meal. Each bite is a mouthwatering harmony of savory goodness, making it a favorite among pasta lovers worldwide
Chicken Parmigiana with Spaghetti
When our clients in Toronto told us they wanted a little variety, we listened. That's why this menu choice includes a fresh breaded chicken cutlet. Chicken Parmigiana with Spaghetti is a classic Italian-American dish that combines tender breaded chicken cutlets with rich tomato sauce and melted cheese. The crispy chicken cutlets are layered with marinara sauce and covered with a generous amount of mozzarella and Parmesan cheese.
We want to make sure our customers in Toronto get everything they want for a great meal experience. That's why we encourage them to complement any order with something from our dessert menu.
Gluten-Free Strawberry Cheesecake
This is the first item on our dessert menu for a good reason. It's topped with a delicious champagne mousse. Strawberry swirls and chocolate shavings are also added for extra flavor.
There is a lot to look through when you're selecting something from our great sides in Toronto options. Make sure to take your time and look through all the other delicious menu choices available. Don't forget that we have gift cards in several denominations.
Enjoy your favorite Deep Dish Pizza at all locations of Mamma's Pizza.