Welcome to Mamma's Pizza Restaurant in Whitby, Ontario, where we serve up some of the most delicious pizza specials in town. Our restaurant is located at 605 Brock St. North, and we offer a wide range of gourmet pizzas that are sure to satisfy your cravings. At Mamma's Pizza, we believe that quality ingredients and fresh toppings are the keys to making the perfect pizza. That's why we use only the freshest ingredients in all of our pizzas, and we make our dough from scratch every day. Whether you're in the mood for a classic pepperoni pizza or something a little more adventurous, like our butter chicken or parmo pizza, we've got you covered. And if you're looking for a great deal, be sure to check out our pizza specials, which are always changing. So come on down to Mamma's Pizza in Whitby and taste the difference for yourself!
Mamma Pizza restaurant in Whitby is a new location with old traditional tastes. There's an excellent selection of house specialty meets pizzas to be found there. We encourage our new Whitby customers to order the party size that has 24 squares. That way, they can send their guests home with a little pizza after any special occasion.
Popular Choice
The Hot Sicilian is a popular choice. This medium pizza comes with garlic Parmesan sticks and dipping sauce. You can order it online and have it delivered. The Sweet Feast is another special that comes with a large pizza and any toppings +2 cans of pop. As if all of that wasn't enough, this menu item comes with a slice of buttered rum Caramel eggnog cheesecake.
While you are looking through our pizza restaurant in Whitby menu, don't forget we can deliver to your home or office.
Pizza Delivery in Whitby
That means you can order anything from our vegan specialty pizzas menu and have it arrive piping hot at your front door. It didn't take long for the Spicy Vegan to become very popular. Maybe it's the vegan pepper jack cheese, or perhaps the tomato sauce and bruschetta. In the end, it doesn't matter because our pizza delivery in Whitby is kept busy with this order.
Great Ingredients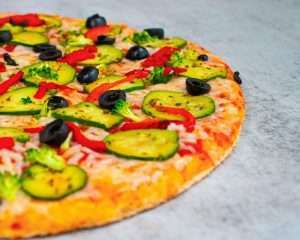 That's not to say that the Vegan Original isn't another popular item. When you look at the ingredients, you'll understand why. This pizza comes with vegan mozzarella and Italian plum tomato sauce as well as broccoli and zucchini.
You can order it online for delivery in one of several different sizes. The extra large is perfect for a small gathering. The medium size is good for a quiet evening at home with your significant other. When you are ordering this item or any other pizza delivery Whitby options, make sure to get our new address right. It's 605 Brock St. in Whitby and you can phone 905-668-2222.
Gourmet Pizza in Whitby
Finally, it would not be right if we didn't mention the wonderful gourmet pizza in the Whitby selections we have. Those include some new choices, including the butter chicken pizza. The ingredients that go into this one include tomato sauce, green peppers, and roasted red peppers. It's just one of the choices that we have in this category that are always guaranteed fresh and mouthwatering.