If you're looking for some extremely cool pizza choices try our 30 Eglinton W Mamma's Pizza Mississauga today. Remember, Mammas Pizza has been in business since 1957. We've always been committed to making sure that you get delicious pizza choices and mouth-watering specials.
Here are just a few of those Mississauga Mammas' choices that have made us famous.
Special #1
if you're having a special event at your home or a late night at the office this is an outstanding special that we put together. Not only will you get one large pizza, but chicken wings too. We like to imagine what will make each and every one of our clients happy with full tummies. That's how we arrive at our specials here at Mississauga Mammas.
We are proud to carry on the tradition that was brought over from the old country all those years ago. That includes making sure that our Mississauga clientele gets only the freshest ingredients and wonderful choices.
The Walk in Has History
We don't want it to be said that we don't enjoy seeing our clients. Of course, we have an innovative online ordering tab on our website. However, even these innovations can't replace seeing your smiling face when you comment to our Mississauga location for a walk-in special.
Something for everyone. That's what we like to tell our customers we have in store for them. This medium pepperoni pizza is just the thing when you're in a rush. Keep in mind we never compromise on quality and that means you'll still get the freshest ingredients with this walk-in special.
What it all comes down to in the end is the fact that our walk-in special has the same sense of history as everything else we serve up — it's piping hot and full of tender loving care!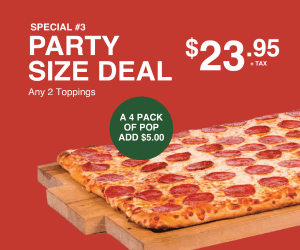 Special #8
People with big appetites and party plans to match rave about this special. Don't forget that Mamma's offers a varied menu that suits every taste bud. Make sure to check out our catering when you look through our website for something good to eat.
Everybody loves garlic bread and we make it one of our specialties. Half trays or full trays are always ready to go to your special event.
Mississauga Mamma's is waiting for you to make your selection today.