Mammas Pizza Restaurant in Richmond Hill has a variety of delicious choices for people looking at pizza delivery. Everything we serve is made fresh with specialty crusts and a host of delicious toppings. Take a few minutes to look through Mamma's specialty pizzas. Whether you prefer a thin and crispy crust or a thick and hearty one, Mamma's Pizza has got you covered.
We offer some of the best pizza toppings ranging from classic favorites like pepperoni, mushrooms, and olives to more adventurous options like roasted garlic, artichoke hearts, and sun-dried tomatoes. Vegetarian and vegan options are also available, allowing everyone to enjoy a slice of their delectable pizzas.
Remember these can be delivered piping hot in a variety of different sizes. One of the most popular is the 14-inch large that has 10 slices. It's enough for everyone in your group to enjoy a tasty treat.
Pizza Restaurant in Richmond Hill
Our Richmond Hill restaurant is famous for the special meat pizzas we have there. Some of the choices that you will find here are more traditional than others. Take Mamma's meatball pizza for instance. Customers rave about the Italian plum tomato sauce, Parmesan cheese, and onions.
Mammas Chicken Pesto pizza offers up marinated chicken and sun-dried tomatoes. It's the perfect choice if you come in with friends and family to our pizza restaurant in Richmond Hill.
The chicken Alfredo pizza that we have on our menu is another popular item. The mushrooms and cheese are fresh as is the Alfredo sauce.
Catering Options
We are the pizza restaurant in Richmond Hill that also has excellent catering options. Start with some garlic bread and cheese and move right into a chicken wing tray and meatball tray. These are perfect for any special occasion and you can add chicken for just a small fee.
Indulge in savory pasta dishes, such as spaghetti carbonara, lasagne, or linguine with clams, prepared with authentic flavors and recipes. Pair your meal with a refreshing salad or an appetizer like bruschetta or garlic bread for a complete Italian dining experience.
Don't forget to check out the excellent salads that we have for your special event. These delicious side dishes include wonderful ingredients like Kalamata olives and Mamma's Mediterranean dressing.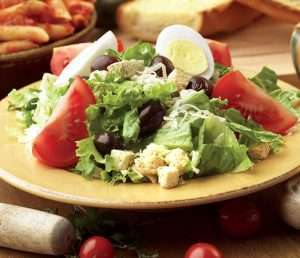 Traditional
Some of the other choices that you have here are more traditional. The Caesar Salad tray is perfect for wedding receptions and corporate events. Mamma's Pizza takes pride in crafting pizzas with fresh, high-quality ingredients. The garlic croutons and Parmesan cheese are perfect complements to the Romaine lettuce.
Gourmet Pizza Richmond Hill
Gourmet pizza in Richmond Hill is just another one of the delicious choices you have. You can even build your own pizza that comes in a variety of different sizes. These all start out with basic tomato sauce and cheese.
The gourmet toppings that you can add on include bacon and artichoke pesto sauce. Of course there's a wide variety of traditional toppings like pepperoni for you to choose from too.
However, one of our gourmet pizza in Richmond Hill choices is made even more special with goat or feta cheese and hot Italian sausage.
Whether you're dining in, grabbing takeout, or having your pizza delivered, Mamma's Pizza ensures that every bite is a delight. Their commitment to quality, attention to detail, and passion for authentic Italian cuisine have made them a beloved pizza destination in Richmond Hill.
So, if you find yourself in Richmond Hill and craving a fantastic pizza experience, head over to Mamma's Pizza. Treat yourself to their party size pizza, immerse yourself in the cozy atmosphere, and enjoy the taste of Italy right in the heart of your community.