If you are planning a big event, our North York Mammas Pizza restaurant will be happy to handle the catering. It doesn't matter whether you're having a business meeting or a wedding reception. Hire catering in North York only at Mamma's Pizza. Here is why you should have us handle your events.
A Culinary Journey Like No Other: At Mamma's Pizza, we take pride in our rich Italian heritage and the art of crafting delectable dishes that have been passed down through generations. Our catering menu showcases a diverse selection of mouthwatering Italian delicacies, from traditional wood-fired pizzas with an array of savory toppings to homemade pasta drenched in velvety sauces that will transport your taste buds straight to the heart of Italy.
Customizable Menu for Every Occasion: We understand that every event is unique, and catering plays a crucial role in making it a memorable success. That's why we offer a customizable catering menu, allowing you to tailor the dishes to your specific preferences and dietary requirements. Whether it's a corporate gathering, a joyous family celebration, or a casual get-together with friends, our expert chefs will curate a menu that perfectly complements your event's theme and atmosphere.
Exceptional Service, Seamless Experience: At Mamma's Pizza, we are dedicated to delivering more than just extraordinary food; we are committed to providing an impeccable catering experience. Our professional and attentive catering team will take care of every detail, ensuring that your event flows seamlessly. From setup to cleanup, you can sit back and savor every moment, knowing that our team has everything under control.
Quality Ingredients, Unmatched Taste: We believe that the secret to creating exceptional dishes lies in the quality of ingredients. That's why we use only the freshest, finest, and locally sourced ingredients in our recipes, allowing us to infuse every dish with unmatched taste and wholesome goodness.
Book Your Event Today: Take your event to the next level with Mamma's Pizza catering services in North York. We are passionate about serving you and your guests with nothing but excellence and warmth. So, whether it's a corporate luncheon or a festive party, let us handle the catering while you enjoy the accolades from your guests. Contact us today to discuss your event's requirements and embark on a culinary journey that will be cherished for years to come!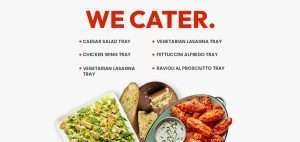 The North York Mammas Top Notch Catering Service includes delicious food that everyone will remember like:
Garlic Bread. This choice goes great with any kind of gathering. This food goes well with several traditional Italian dishes like pasta and spaghetti. You can even serve it as a side dish with tossed salads and soup. Best of all, garlic bread is full of good nutrients and fibre. Garlic is also a stimulant for your immune system.
Chicken Wings. Mammas offers a variety of different flavors for our chicken wing trays. You can choose from medium, hot, or suicide or honey garlic and barbecue. Here's a little-known fact about how chicken affects your overall health. There is an amino acid in this food that bumps up your serotonin levels. The result is chicken wings are good and can act like an antidepressant.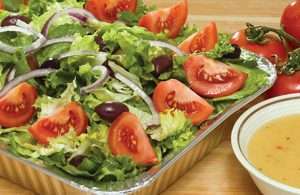 From Caesar Salad to Chef Salad and Mamma's Special Salad, we have a variety for you to choose from. These come with a variety of excellent fresh ingredients ranging from Kalamata olives to garlic croutons and Parmesan cheese. This food is a good source of natural fibre which helps to lower your bad cholesterol. Salad can also help control your blood sugar levels.
The North York Mammas Pizza also has a variety of delicious entrées for your special occasion.
The meat lasagna tray is one of our customers' favorites. That stands to reason because we only use fresh pasta and meat sauce. This is a popular choice for wedding receptions and corporate events as well.
Popular Choice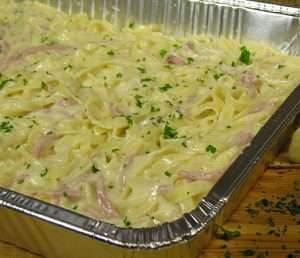 The vegetarian tray is also a popular choice. One of the big ingredients here is our plum tomato sauce. This meal also has zucchini, mushrooms, and spinach topped with a delicious layer of melted cheese.
We have other pasta choices on our catering menu. Don't forget that you can add meat sauce and rose sauce to any of the half trays that you order. That includes the penne that has already been simmered in a pesto sauce. This entrée also comes with sun-dried tomatoes and marinated mushrooms. Finally, don't forget to have a look at the Fettuccini Alfredo tray. Enjoy Mamma's Pizza at your nearest outlet or order online today.