Attention all vegan foodies in Toronto!
Pioneering this plant-based culinary marvel is none other than Mamma's Pizza, a revered all-inclusive pizzeria that has taken the city by storm with its exceptional array of vegan cheese pizza offerings. We are proud to offer an exquisite range of delectable vegan pizzas that will leave you craving more.
One of the first things you'll notice when you start looking at the menu here at Mamma's Pizza is our plant-based pizza recipe is just one of a myriad of choices you have, to fill even the hungriest appetite. Mamma's Pizza takes vegan pizza to new heights with its freshly made vegan dough, which forms the foundation for a medley of mouth-watering toppings.
From vibrant, farm-fresh vegetables to rich and creamy plant-based cheese, each ingredient is thoughtfully chosen to create a burst of taste and texture that will captivate your senses. Start by looking at the variety of vegan pizza in Toronto specials we have to offer and you'll see why we've been in business since 1957. The Vegan Pizza Toronto collection at Mamma's Pizza is a testament to the pizzeria's commitment to delivering both taste and ethics on a single, delectable plate.
Central to the allure of Mamma's Vegan Pizza in Toronto is the ingenious use of vegan cheese. Crafted to achieve the perfect melt, stretch, and flavor profile, the vegan cheese at Mamma's Pizza is a triumph in its own right.
So if you Feel like thin vegan pizza crust toppings are the only thing that will satisfy your appetite, and looking for a close location so you can come back again and again to try everything we've got at your leisure? Scan our website. Remember, we're the all-inclusive pizzeria that has catering, gift cards, and a sense of community involvement that's all part of our dedication to 100% complete customer satisfaction.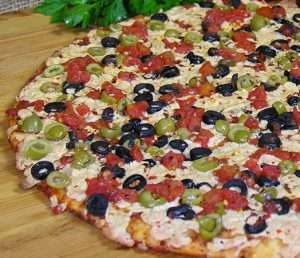 Mamma's Pizza's commitment to providing exceptional vegan options extends to its preparation methods, ensuring no cross-contamination with non-vegan ingredients. This dedication ensures a worry-free dining experience for all vegan customers.
Our Breaded pasta and calzones are two of the other choices that keep our valued customers coming back again and again. It doesn't matter what you choose from our menu, everything we serve is backed by Old World tradition and modern-day innovation. That's why we think you'll love our vegan pizza in Toronto.
Satisfy your pizza cravings guilt-free at Mamma's Pizza, where the passion for quality and taste meets the principles of compassion and sustainability. With several locations across Toronto, it's never been easier to savor the exquisite flavors of vegan pizza. Experience the epitome of plant-based goodness at Mamma's Pizza today! Why not get in touch with us today on the telephone or click on the website to place an order online?