Looking for fresh gourmet pizza in Whitby? Our new Mamma pizza location has that and a lot more.  Check out the following list of some of these fine pizza choices. Remember that you can come into our new Whitby location and eat them there. Or you can order them online and have them delivered.
Either way, we always encourage our customers to take a look at the nutritional info on our website. It includes the calories, fat, and saturated fat as well as the protein and vitamins in each slice. Our priority is making sure you get delicious food that's good for you at the same time.
However, that doesn't mean we don't want you to enjoy yourself looking through our gourmet pizza in Whitby choices. Please read on to find out about all the different selections you have.
Meatless Meat Amore
This is one of the favorite choices with our Whitby customers. It's no wonder when you consider the bacon and ground beef as well as the hot Italian sausage and pepperoni are always fresh. You can choose from a variety of different sizes including a small up to a family and party size. The party size is excellent for holiday festivities where you need 24 squares.
Mamma's European Classic
Some of our customers are interested in a more classic pizza. This one covers that base with sun-dried tomatoes, feta cheese, and mushrooms. The extra-large size is a good choice. It has 12 slices so you can send someone home from the big game with a snack.
Mamma's Viareggio
This pizza features our fresh tomato sauce that's made on-site. Sun-dried tomatoes and feta cheese are two of the other ingredients that make this menu choice stand out.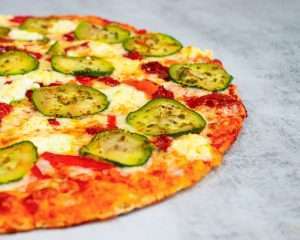 Build Your Own Pizza – Fresh Gourmet Pizza
Don't forget we also offer the build-your-own pizza option. You can choose from three different kinds of crust that include cauliflower and gluten-free options.
Sort through the free toppings that we offer up to make your pizza special. They include fresh oregano and garlic as well as fresh green chili.
Then of course there's a list of gourmet toppings. You can add any one of these to your Fresh Gourmet Pizza in Whitby. They include excellent choices like broccoli and roasted garlic as well as marinated eggplant and marinated mushrooms.
Finally, we have a great selection of salads that are all fresh.
Order online or visit your nearest store.