Have you ever tried a pizza with cauliflower pizza crust? If not, you have missed out on a lot and must try it as soon as possible. In fact, it would be great if you seek an experience where you get an opportunity to craft your own pizza using a cauliflower pizza crust. That way, you will be in complete charge of how exactly you want your culinary delight to taste. From choosing ingredients to deciding on flavors, you will enjoy every step of the process.  
So, if you are from Toronto and want a similar culinary experience, head straight to our pizza joint and go for our "Build Your Own Pizza" option. At Mamma's Pizza, we love empowering our customers and giving them the power to decide what ingredients they want in their pizza.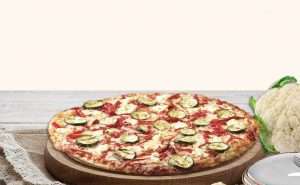 You can also use the 'Mamma's Pizza coupon' to redeem the discount on our offerings. 
We firmly believe that everyone has a unique taste preference, which we can meet better if we allow them to unlock their hidden chef. Our 'Build Your Own Pizza' is a testament to that belief. Perhaps that's the reason we have received the tag of the "best pizza restaurant in Toronto."
Our commitment to catering to individual taste preferences has enabled us to become a go-to destination for the best pizza in Toronto. People love visiting our pizza joints with family and friends as we offer them memorable experiences.
Cauliflower Pizza Crust: Baking a Healthy Base
Before discussing the significance of baking a healthy base for pizza using cauliflower, let's shed some light on how innovation has got us here today. It's no secret that embracing innovation is the key to progress and excelling in whatever you do. Like all the other industries out there, this concept equally applies to the food industry. 
The introduction of cauliflower pizza crust in pizza making is an excellent example of how we are refining food items and giving a modern twist to them – all for good reasons. The crust is the foundation for crafting a mouthwatering pizza; however, we shouldn't only be concerned about the taste. Remember, the ingredients we use to make the crust play a vital role in enhancing its health quotient, making it a better option. So, eliminating wheat flour and using cauliflower rice, in turn, helps bake a more nutritious crust, setting the stage for crafting a healthier pizza.
When compared to a base baked with wheat flour, cauliflower pizza crust is a better option for people with specific dietary requirements, such as those with gluten allergies. 
Besides, eliminating wheat flour makes it a low-carb option, making it a good choice for those who want to reduce their carb intake. In short, if you are looking forward to enjoying a gluten-free, more nutritious, and flavorful pizza, go for Mamma's Pizza's "Build Your Own Pizza" option and choose a cauliflower pizza crust for it. 
Guilt-Free Indulgence: Unveiling the Benefits of Cauliflower Pizza Crust
Low in Calories and Carbs
Cauliflower pizza crust offers significantly lower calories and carbohydrates; hence, it is a lighter alternative. This lower calorie and carbohydrate content can be beneficial for those looking to manage their weight or follow low-carb diets. Individuals can enjoy pizza without compromising their dietary goals by reducing calorie and carb intake.
Nutrient-Rich
Cauliflower is a nutritional powerhouse, rich in vitamins such as C, K, and B, as well as minerals like potassium and manganese. Additionally, it contains dietary fiber, which is essential for digestive health. Incorporating cauliflower into the crust enhances the overall nutritional value of your pizza. These nutrients can support various aspects of health, including immune function, bone health, and heart health, making cauliflower pizza crust a healthier choice.
Gluten-Free
Gluten is a protein known for its starchy attribute. It is found in grains like wheat and barley and acts as a binding agent. Although not everyone has a problem with gluten, some individuals indeed have issues related to gluten consumption. They should stay away from wheat and barley-based products containing this protein, such as pizza, bread, pasta, and malt vinegar. 
So, if you have a gluten allergy but love pizza, you can opt for the one with cauliflower crust. Since the crust does not contain flour, it's gluten-free and safe.
Keto-Friendly 
A pizza with a cauliflower crust is a perfect option for those following a keto diet. Considering that the primary ingredient of its crust is cauliflower rice instead of wheat flour, it sets the foundation for baking a keto-friendly pizza. In other words, because of its keto-friendly attributes,  cauliflower pizza crust has become increasingly popular worldwide.
A ketogenic diet revolves around the concept of consuming high-fat and low-carb so that the body can use fat to fulfill its energy requirements instead of carbs, which is called ketosis. Considering this crust has minimal carbs, it fully backs ketosis. In short, this is the best keto pizza crust; you must try it if you are on a keto diet.
Vegan -Friendly
Considering that cauliflower pizza crust is a plant-centric option, vegans also prefer it. It complements a variety of toppings, enhancing the taste of the pizza multiple times. So, if you are a vegan, you can load this pizza base with toppings like tomato sauce, vegan cheese, pepperoni
mushrooms, green peppers, hot pepper rings, black olives, oregano, etc.
As we conclude this post, we want to highlight whether you wish to shed those extra pounds, have a gluten allergy, are looking for a more nutritious alternative, or are a vegan; you should opt for a pizza with a cauliflower crust. It is low-carb, nutritious, gluten-free, keto-friendly, and has a low glycemic index, making it a perfect choice for a wide range of people.